Before and After Facial Acupuncture
Used by The Empress and Consorts of the Emperor to keep them looking young, Cosmetic Acupuncture was a system used in ancient times in China. After intensive research into ancient texts and practice It has now been further developed in the USA by Dr Martha Lucas.This has resulted in the Mei Zen Cosmetic Acupuncture system, now used all over the USA. Discover Facial Acupuncture and find the beauty secrets of Asian nobility. 
Which areas be treated can be treated?
At the moment the Face, Abdomen, Bottom or Hips
The none surgical MeiZen Cosmetic Acupuncture procedure is holistic and natural. Very small, fine needles are inserted in to Acupuncture points on the Body or Face to stimulate the production of Collagen and Elastin. They are then left for about 20 minutes. This moves the 'Qi' and blood in the skin to promote repair or to look at it another way, the needles are causing 'micro-traumas' and this is alerting the body's own repair system to come and do some repair work! 
Kim Maidment is the only  MeiZen Cosmetic Acupuncture certified Practitioner in the whole of the UK having gone to the USA to study under Dr Martha Lucas.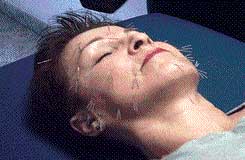 Many patients say to me " I don't know what you have done but I just feel better in myself".
What results can I expect after Cosmetic Acupuncture?
The results of Facial Acupuncture anti-aging treatments reflect not only a change in external appearance, but also an improvement in total body wellness. The International Journal of Acupuncture has shown that Cosmetic Acupuncture is 90% effective. This means it does not work for everyone, but most people. Results may last for 3 to 5 years but it is a good idea to have top-ups to maintain the results. (I have Patients who come once a month for this but every three months is the recommendation). You may notice; 
More radiant, beautiful skin and fading of age spots.

Disappearance and improvement in the fine lines of the face and diminishing effect on deeper wrinkles.

Improved muscle tone and firmer jaw line, as well as the reduction in the beginning of jowls

reduction or elinination of Rosacea and Acne.

Moisturised softer skin and more even skin tone.

reduction in puffiness due to improved metabolism.