Cosmetic Acupuncture photos from my article in Devon Today magazine.
How do I get Facial Acupuncture?
Book in for a free assessment. Then I will discuss your medical history and the pro's and con's of the treatment. Pregnant ladies Abdominal Acupuncture is not suitable for you. (It is good for fertility though!). People that smoke may not get such good results as they are constantly damaging their skin by smoking. I can help Smokers to quit as part of their treatment. You will need to experience having a few needles put in so that you can see it is not painful. Also please read the Patient Information on the next page.
By this time you will have decided to commit to a course of treatment. this is necessary as a course does take some commitment on your part and mine. You will need at least 10 treatments, possibly twice a week so you will need to be patient.
I will take your pulses on both sides and your tongue will be looked at to determine your overall health. Body points may then be needed to be used so there is a possibility that you will be undressed to your underwear to start with. This is a Holistic treatment and true beauty comes from within. After this I may start on the Cosmetic points or I may do this at the next treatment, depending on your state of health. The first thing you will notice is a healthy glow.
As this treatment does take commitment, if you book all ten treatments and pay at the first treatment you will receive the tenth treatment free!
Advantages of Facial Acupuncture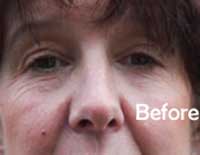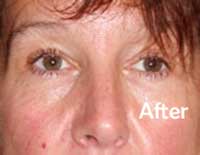 This deep, natural treatment works with your body and is not an assault on your face like plastic surgery or Botox so rarely produces bruising. It is used as a preventative by younger women and men to help them to keep looking young.  Acupuncture is used to treat scars and after Cosmetic Surgery to bring the spirit back to the skin and help repair any damage.  Botox can actually be dangerous. Cosmetic Acupuncture is also known as "Rejuvenation Acupuncture" because it actually improves the condition of the skin instead of masking the imperfections like most other beauty treatments. 
Imagine meeting with an old friend and she says "Wow have you had something done to your face? You look fantastic" This has happened to several of my Patients and because the changes occur over ten treatments Patients often think nothing much is happening until others start to notice.